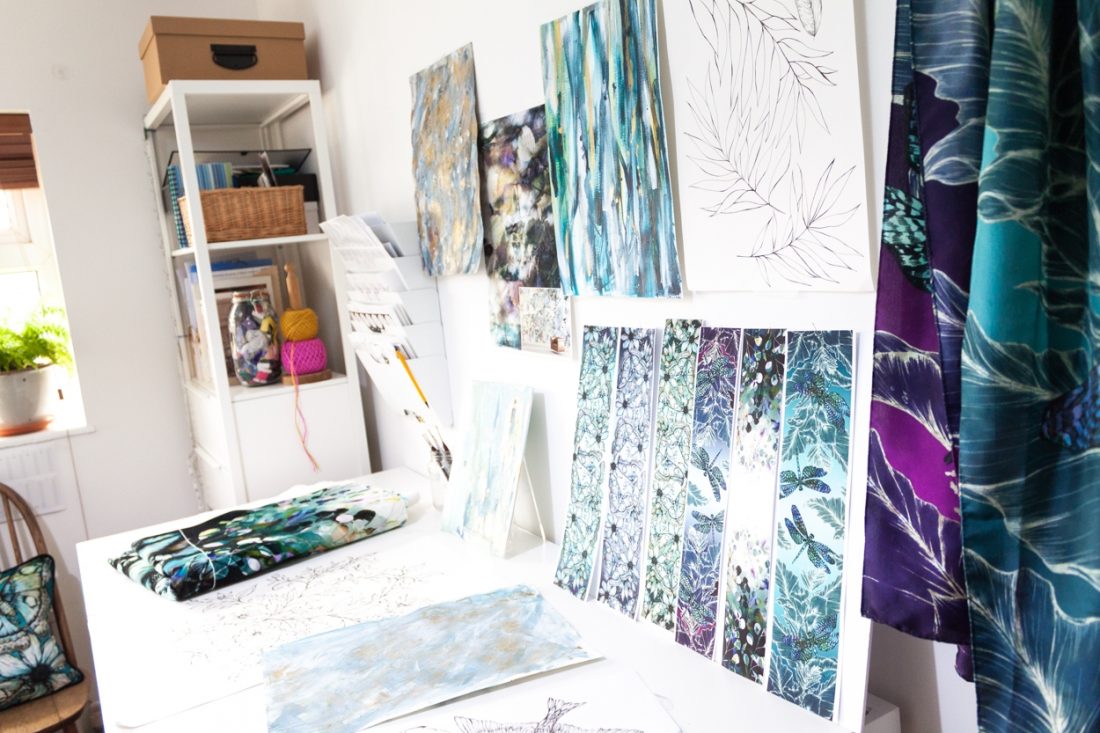 5 Tips for Working from Home
These are pretty unusual times right now so I thought I'd share some tips for working from home. I went from working in a design studio for 5 years to starting up freelance from home back in 2013. It's been a learning a curve along the way and here's some of the things that have helped me and hopefully you can find them useful too.
1. Keep a structure to your day
When I started working from home I kept the same structure to my day as I did working in-house, while also matching my husband's office hours and days off. One of the toughest things I find working from home is maintaining balance between work/life and being able to switch off. If you can designate a workspace somewhere, even if it's just the dining table, so that you don't lose your space for chilling out when you need to switch off.
Working from home can be quite disorientating if you're not used to it, so get to know what works for you. What tasks work best for you at different times of the day? I don't tend to settle straight into an involved artwork first thing in the morning, this is my time for blitzing loads of small tasks such as emails, orders and general admin. I used Google Calendar and Tasks for managing my time and scheduling in work as needed. Once I've cleared all the many to-do's, I get myself setup for bigger projects. I find audiobooks great in the afternoon for getting lost in the creative flow for several hours.
2. Take a proper break
I used to rush lunch and carry on working whilst eating at my desk, but over the years I've learnt you're better off just taking a proper break. Your focus is better throughout the rest of the day and it keeps me going if I'm working into the evening. Above all use this time to get some daylight, something that you can really start to miss; have a cuppa outside, walk to the post office, whatever you need to do to make sure you get some vitamin D and fresh air.
3. Exercise
With no commute, no gyms etc. make sure you keep your body moving, even a little bit will help you so much mentally and physically. I find too much time at the desk soon turns into creaky joints and sore backs/necks. My exercise is generally yoga based which has lots of good online options. I keep my yoga mat and block to hand in my studio, it kick starts my morning and I try to fit a few stretches throughout the day. Long spells of drawing and computer work can be tough on your wrists, so it's important to look after them.
Also check the ergonomics of your desk setup, I found I needed wrist supports for my keyboard/Wacom tablet and a stand for my laptop to save neck strain.
Find what suits you best and what you can fit into your daily routine, YouTube videos are great for exercises to do at home, and there's still walking/running/cycling too.
4. Biophilic working
'Biophilic' might sound fancy but it's really just common sense in looking after our well-being and maintaining our connection with nature. We know we feel better with natural light and fresh air, is there a way to maximise this in your workspace or routine? We also feel better with a visual connection to nature, can you work near a window or add a few more plants to your workspace? Noise is also important and sometimes the hardest to control, head phones can be great for switching off and helping to focus.
5. Stay connected
One of the hardest things to adapt to is the lone working from home, if you're used to being a busy office this can be quite a shock. There's lots of Facebook groups and social media options to stay in touch, but sometimes it's too easy to get distracted and lose your focus. Structure your day, how much time do you spend on social media? Sometimes you can't beat a proper chat over the phone or Skype and it's worth just making the time for this.
These are just some of things I've found have helped me but see what works for you, these are really tough times and we're all having to adapt so quickly, I hope this helps a little bit. Feel free to comment and stay well 🙂